SRJC'S Awards & Recognition for Sustainability
STARS Accreditation - 2019
The Sustainability Tracking, Assessment & Rating System™ (STARS®) is a transparent, self-reporting framework for colleges and universities to measure their sustainability performance. STARS is intended to engage and recognize the full spectrum of higher education institutions, from community colleges to research universities. SRJC has been acknowledged as the first community college in California to achieve STARS recognition for its efforts and submission to this internationally recognized framework. In 2019, SRJC was recognized as a recipient of a bronze designation.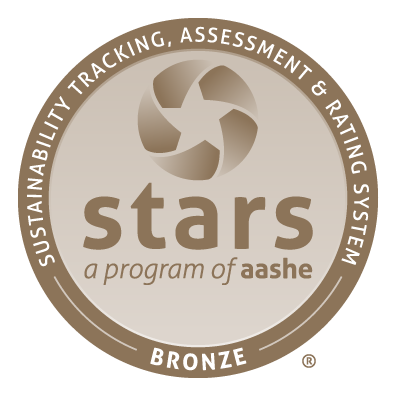 To view SRJC's submission, please click here
California Higher Education Sustainability Conference (CHESC) 2019 Awards: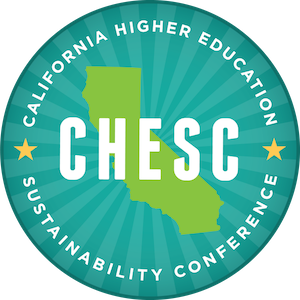 California Community College Sustainability Champion - David Liebman
The Sustainability Champion Award is the highest level and only individual-level award given at the CA Higher Education Sustainability Conference within our Best Practice Awards Program. The Sustainability Champion award is given to an individual person who has been a role model to their peers around the state; has promoted sustainability throughout their campus; achieved results; and who truly embodies the term "leader".
Water Efficiency and Site Water Quality Best Practice Award - Sonoma County Living Learning Landscapes Project
The Sonoma County Living Learning Landscape is a project started in collaboration with the Sonoma County Water Agency, City of Santa Rosa, UC Master Gardener Program, Habitat Corridor Project, California Native Plant Society, and Sonoma County Junior College District to create ready-made sustainable garden templates that meet MWELO standards and are free for anyone to download and implement. Currently, the templates are being installed on campus to showcase real-world examples of the gardens.
Energy Demand Best Practice Award - Zero Net Energy, Electrification, to Microgrid Design
Sonoma County Junior College District has a goal of Zero Net Energy Source District by 2030. The push for Zero Net Energy and then all-electric buildings has to lead to SCJCD being awarded a California Energy Commission Grant to turn SCJCD main campus into a 100% renewable microgrid. This presentation will discuss Zero Net Energy Source, electrification, and how microgrid design is the next step in creating Zero Net Energy, Zero Carbon, and grid friendly campuses.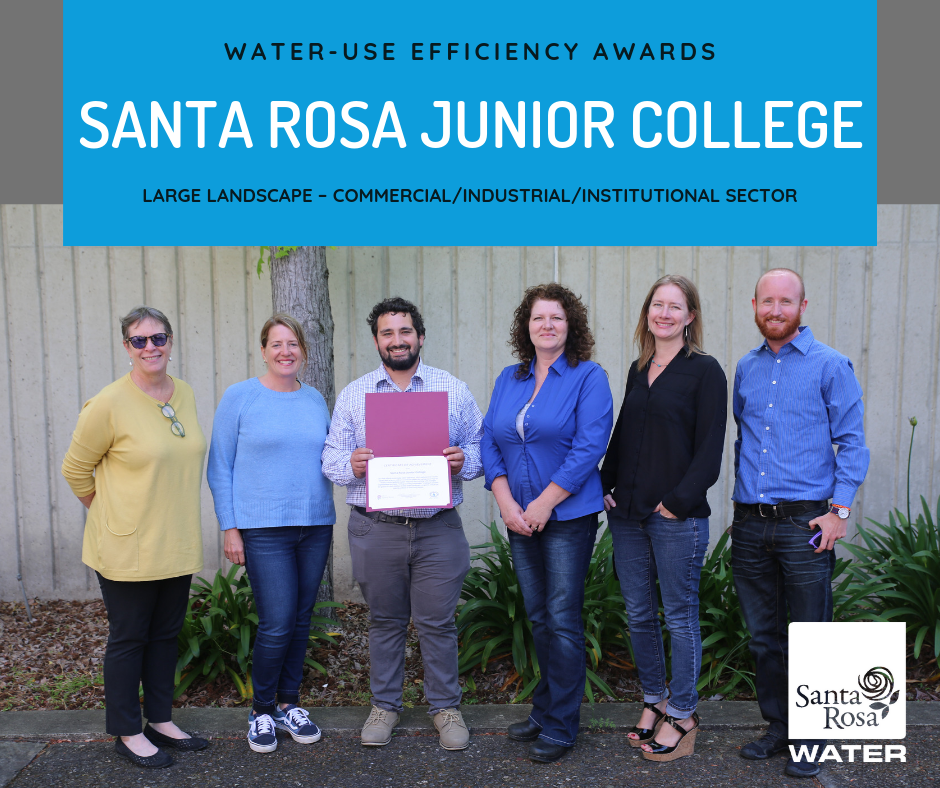 Sonoma County Living Learning Landscapes at SRJC
First Place - regional 
Innovative Design Award - national
HVAC Retrofit
Renewables/Innovative Energy Generation or Procurement
Best Water Efficiency and Site Water Quality
Student Sustainability Program - 2011
City of Santa Rosa, Environmental Champion - 2008
Water Quality
Reducing Santa Rosa's Carbon Footprint
Business Environmental Alliance of Sonoma County
Environmentally Sound Business Practices
1. Establish an Office of Sustainability Programs
The position of Sustainability and Energy Manager was created and filled. This position is not within an Office of Sustainability but within Capital Projects. There has also been a steady increase in Climate Corps Fellows and Facilities Management Interns working on a variety of different projects from alternative transportation initiatives to energy reduction projects.
2. Establish the President's Sustainability Council Devoted to Achieving Goal E
A District Sustainability Committee was established in lieu of a President's Council. The Sustainability Committee is a standing committee whose responsibilities are to facilitate the development, implementation, and management of SRJC's Strategic Plan Goal E and establish a culture of sustainability that promotes environmental stewardship, economic vitality, and social equity through all district sites.
Standing Sustainability Committee Sharepoint page
3. Align Value, Core & Key Performance Indicators (Scorecard) & Strategic Plan Goal E Objectives
The Sustainability Tracking, Assessment & Rating System (STARS) was created by AASHE, The Association for the Advancement of Sustainability in Higher Education. The goal of this rating system is to be a transparent, self-reporting framework for colleges and universities to measure their sustainability performance. The District Sustainability Committee chose to use STARS to measure the progress of Strategic Plan Goal E, establish a culture of sustainability. There are a total of 312 colleges campuses worldwide that have submitted STARS reports, and SCJCD is the first California Community College. STARS was picked because it is used at campuses around the world, along with addressing topics such as academics, operations, engagement, and planning & administration. SCJRC is estimated to receive 34.88 points resulting in receiving a bronze rating.
4. Name, Brand, and Market the College's Sustainability Initiatives
Sustainable SRJC is the brand and a new logo was created along with updating the Sustainability website. There are 113 people who have liked the Sustainable SRJC Facebook page and the Sustainable SRJC Instagram page has 80 followers. Climate Corps fellows have been working with the SRJC marketing and social media coordinator, as well as creating biweekly newsletter content for Bear Facts and the Insider to promote sustainability events and initiatives and inform the SRJC community about past and current projects on campus.
5. Implement Revised Environmental Procurement Policy
A draft Environmental Procurement Policy is under review.
6. Align Water, Food & Waste with Best Sustainable Practices
Steps to reduce water use have been coordinated by the Grounds & Recycling program. Certain landscaping has been replaced with native and drought-tolerant plants, thus reducing water usage. Additionally, there has been an increase in recycling and composting throughout the Santa Rosa and Petaluma campuses. 
7. Conduct Baseline Audit of Resource Utilization
A comprehensive audit of the energy and water resources used throughout the campus building spaces has been completed.
8. Assure Green Building & Sustainable Facilities
The 2016 SCJCD Facilities Master Plan and Guidelines builds upon the District's priorities for student learning and success, providing a guide for future development of the District's five teaching sites. The District formed eight Sub-Committees to focus on particular aspects of the project, reporting back to the 2030 Plan Steering Committee. One of these committees is the sustainability subcommittee which creates District sustainability standards for the benefit of the Measure H Program and coordinates existing work with committees including sustainability guidelines and LEED Guidelines.
9. Establish Sustainable Transportation Improvements
The Santa Rosa Junior College has partnered with Sonoma County Transit, Santa Rosa CityBus, and Petaluma Transit to allow SRJC Students to ride for free, along with reduced price SMART passes. The campus is also involved with advocacy for a new bicycle and pedestrian bridge crossing over highway 101, and identified ways in which to improve bike facilities. In spring 2019, a Climate Corps fellow developed a Sustainable Transportation Plan for the district.
10. Increase Community Outreach & Collaboration
Community Outreach takes place through the Sustainability Committee along with the Sustainability Team. Both the Waste Diversion Technician and the Sustainability and Energy Manager are involved with organizations throughout the local community. Guy's monthly all-staff Waste emails, Earth Month April emails, Climate Action Night (ways we have reached out to the community to get climate action in front of more people in the SRJC community)
11. Infuse Sustainability throughout the Curriculum     
The courses that include sustainability are now being flagged, and are indicated by a leaf in the course catalog. Sustainability courses across multiple academic departments include human impact and responsibility in the following areas: environmental stewardship, economic vitality, and social equity. Meeting the needs of the present without compromising the ability of future generations to meet their needs is a fundamental precept of sustainability education.
12. Establish Sustainability Equipment Initiatives
Measure H incorporates a number of sustainability initiatives that will lower the District's dependence on energy and water, and lower the District's operating costs. Solar PV Arrays covering parking lot areas equal about $1.5 Million in energy savings per year to SRJC's general fund. Other projects include but are not limited to LED lighting upgrade, Petaluma campus monitoring-based commissioning, and HVAC controller upgrades in Maggini & Call Hall.
Learn more about the sustainability projects here
13. Support and Align with Social Equity Projects
In addition to Student Equity Funding initiatives, the Basic Needs Resource Center is available to SRJC students. Resources include but are not limited to food resources, CalFresh Outreach, housing assistance, and other helpful services.
14. Implement Sustainable SRJC Lectures & Events
In 2018, there was a Sustainability Summit which consisted of Sustainable SRJC allies presenting an update of district efforts. Additionally, in 2019, there is a full week of activities planned for Earth Week ending with Day Under the Oaks including a Sustainability Village.
15. Research & Sign Appropriate State & National Documents for College Sustainability
Santa Rosa Junior College joined 650 colleges across the United States as a signatory to the President's Climate Commitment on November 6, 2018. This pledge states the college's commitment to neutralize its greenhouse gas emissions.
16. Provide Enhanced Leadership Training in Support of Student Organizations
2018-2019 Student VP of Sustainability, Sophia Porter has chaired the Student Sustainability Committee for the past year and was a key organizer for a 12-student trip to the California Higher Education Sustainability Conference (CHESC) in summer 2018. SRJC students learned what sustainability projects were being implemented by other institutions, made meaningful connections, and left the conference inspired to activate change. The student EcoLeaders club has hosted on-campus events to promote sustainability, at school and in the community. With many student sustainability leaders transferring or moving on to new chapters in their life away from SRJC, now is a great time for YOU to get involved. Reach out to guser543@santarosa.edu for more information!
17. Enhance Professional Development Opportunities
Campus as a Living Lab was a staff professional development activity (PDA) topic offered at the February 2019 training day. In the future, at least one sustainability topic should be covered at these recurring PDA days. Additional PD offerings have focused on diversity and inclusion in the classroom and workplace. Financial sustainability is a topic worth including as this applies to the college's challenges when implementing sustainability, and also for personal fiscal solvency and long-term planning.
18. Develop Communication Strategies to Effectively Deliver & Update Sustainability Information
The Sustainable SRJC web page is being updated to include current initiatives the school is tackling. Additionally, the Sustainability Tracking, Assessment & Rating System (STARS) has been completed and the results are transparent and posted on the AASHE website. In fall 2018, a biweekly Sustainable Corner was established in the BearFacts Student newsletter, and the posts are archived on the sustainability website here. We recognize the importance of PR and marketing our sustainability efforts, and intend to provide ongoing communications in correlation with our work. The SRJC Sustainability Website will be the best place for the information moving forward, and a tile will be developed to provide relevant info to the mySRJC smartphone app.