Our Oak Trees
Oak trees are part of the iconic beautiful landscape of Sonoma County. There are many types of Oaks within Sonoma County high and low and each one teaches us about the different microclimates within the area they inhabit. Oaks provide essential habitat for more than 300 wildlife species and as many as 5,000 insect species. Oaks also provide an abundant food source as well as cavities that can house birds, and fallen branches can provide a home for ants, beetles, salamanders, and frogs.   
Valley oaks love deep soils, have dull green leaves without sharp tips and deeply lobed. They can be found through the Laguna de Santa Rosa, and right here on our own campus. 
Blue oaks like a relatively hot and rocky location, and have blue-green leaves, no sharp tips and shallowly lobed. They can be found on inland ridges like in the Sonoma Valley. 
Black oaks enjoy the water and shade and their leaves are large and sharply tipped with deep lobes. They can be found in canyons like those at Hood Mountain and Sugarloaf Ridge. 
Oregon oaks takeover where the Valley Oaks leave off hillsides and fertile soils. Their leaves are bright green, lobed, and not sharply tipped. They can be found at Taylor Mountain. 
The Coast Live Oak dominates the western part of Sonoma County while being able to survive almost any microclimate. Their leaves are dark green, curved, and have sharp spines,
---
Sonoma County Living Learning Landscapes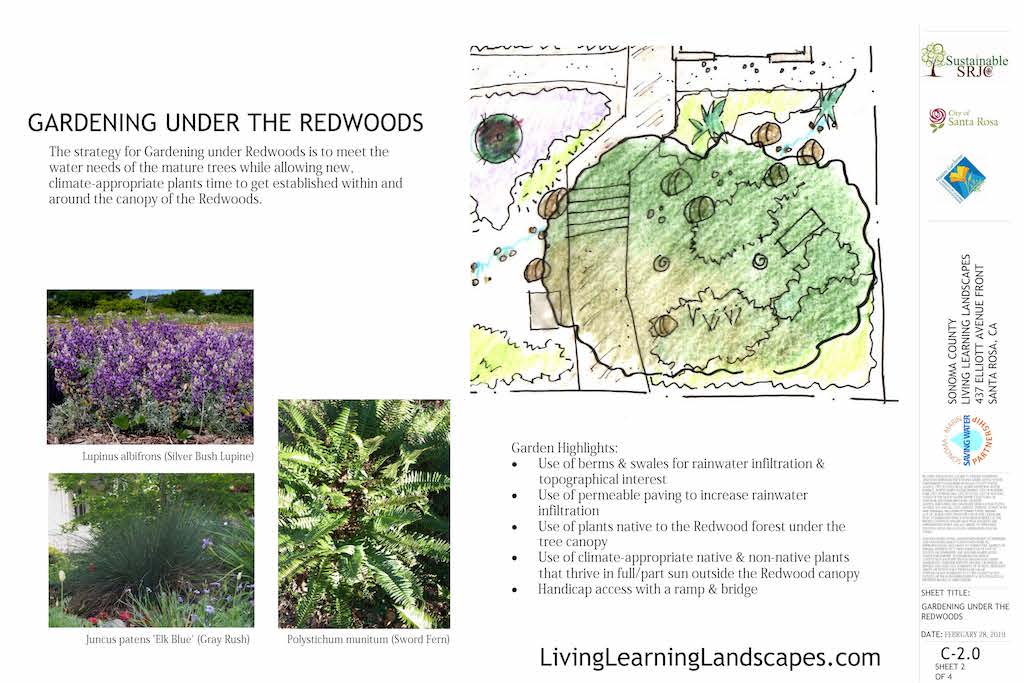 This collaborative project, which began in 2018, has brought together many local and regional organizations to design, create, and maintain eight residential-scale gardens at SRJC-owned properties along Elliott Ave. In addition to being physical spaces on campus where the community can come to learn, the landscaping plans are available for free download on the website < for anyone interested in turf replacement, rebuilding, or landscaping for resiliency.
The first four spaces in transformation are at the front (Perennial Meadow) and side (Under the Oaks) of 1808 Albany Ave., 437 Elliott Ave. (Gardening Under the Redwoods) and 425 Elliott Ave. (Fire Safer Strategies).
This project has won two awards in 2019 alone!
In May 2019, the project received recognition from Mayor Chris Coursey for winning the 2019 Water Use Efficiency Award for Large Landscapes in the City of Santa Rosa!
In July 2019, the project also received an award for Water Efficiency and Quality in Landscapes at the California Higher Education Sustainability Conference.
More information about this project is available at the website www.livinglearninglandscapes.com.
---
Grounds Management
Landscaping using an increased number of native and drought-tolerant plants.
Artificial turf comprised of crushed recycled tires, sand and nylon plastic fiber that can be recycled until the end of its lifespan replaced with six acres of water-thirsty, natural turf. Installation of the artificial turf reduced water use for irrigation by 20 percent.