Santa Rosa Junior College's Strategic Plan Goal E establishes a culture of sustainability that promotes environmental stewardship, economic vitality, and social equity throughout all district sites.
Promote sustainability broadly across all areas of campus operations, student life, academics, and civic and community engagement
Create professional development opportunities related to sustainability for faculty and staff
Supporting student sustainability groups, clubs, and initiatives
Oversee and promote environmental education at SRJC, including supporting the development of environmental courses and majors, administering the Global/Environment AS requirement, facilitating the Environmental Forum course, awarding Foundation scholarships, and assisting faculty across all disciplines to incorporate sustainability issues into their curricula
---
Spotlight: Sustainable Transportation
CLIPPER BAYPASS
NEW PILOT PUBLIC TRANSPORTATION PROGRAM
FALL 2022-SUMMER 2024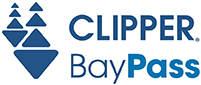 Currently enrolled SRJC Students (in fall 2022 and spring 2023) can get a Clipper BayPass free of charge. This pass provides transportation on all bus, rail, and ferry service in the 9-county San Francisco Bay Area region on lines where Clipper passes are accepted. This program is FREE to SRJC students, who will remain eligible for two-years - as long as they are enrolled.
This is a two-year pilot project to study the benefits of a transit pass that provides access to all transit services in the 9-county Bay Area.

To apply for the Clipper BayPass please fill out this form: srjc_clipper_baypass_form

After submitting the online form fall 2022 students must pick up their Clipper BayPass cards by December 16, 2022.  Spring 2023 students must pick them up by May 26, 2023.

This program is FREE to SRJC students, who will remain eligible through Summer 2024  – as long as they are enrolled.
For more information, visit the Clipper BayPass FAQ page
NUEVO PROGRAMA PILOTO DE TRANSPORTE PUBLICO
OTOÑO 2022-VERANO 2024
Los estudiantes que actualmente están inscritos en el SRJC (en otoño de 2022 y primavera de 2023) pueden obtener un Clipper BayPass sin cargo. Este pase proporciona transporte en todos los servicios de autobús, tren y ferri en los 9 condados de la región del Area de la Bahía de San Francisco, en las líneas que aceptan los pases Clipper. Este programa es GRATUITO para los estudiantes del SRJC, quienes seguirán siendo elegibles por dos años - siempre y cuando estén inscritos.
Este es un programa piloto de dos años para estudiar los beneficios de un pase de transporte que proporciona acceso a todos los servicios de transporte en los 9 condados del Area de la Bahía.

Para solicitar el Clipper BayPass por favor llene esta forma: forma clipper_baypass del srjc
Después de enviar el formulario en línea, los estudiantes de otoño de 2022 deben recoger sus tarjetas Clipper BayPass antes del 16 de diciembre de 2022.  Los estudiantes de primavera de 2022 deben recogerlas antes del 26 de mayo de 2023.
Este programa es GRATUITO para los estudiantes de SRJC, quienes seguirán siendo elegibles hasta el verano de 2024, siempre que estén inscritos.
Para mayor información, visite la página de Preguntas Frecuentes sobre el Clipper BayPass
---
Discounted SMART Semester Passes for currently enrolled Students

A limited number of discounted student SMART passes  will be available for a first come, first served basis.
This is a pilot program:
 To purchase a pass/es, contact SRJC Student Life at (707) 527-4424 for more information.  
31-day student SMART passes are non-transferable; they cannot be sold or duplicated. If someone other than you is found using your Eco-Pass on a SMART line, that person will be subject to a fine.
Students must tag their 31-day student SMART pass on the SMART platform's Clipper reader each time they enter and exit a train.
SMART may replace damaged, lost, or stolen 31-day student pass at its discretion and only if upon purchase the 31-day student pass has been registered at Clippercard.com by scrolling down to New to Clipper.
---