Parking at Santa Rosa Campus
Students who intend to park a vehicle on the Santa Rosa Junior College properties must obtain a valid SRJC parking permit. Parking permits must be purchased at the Accounting office of Bailey Hall. Parking paremits are designed to be hung from the rear-view mirror and must be displayed in vehicles by the first day of each semester. Parking permits cost approximately $60.00 per semester. https://pr.santarosa.edu/parking-santa-rosa-campus-fall-2018 
​Santa Rosa Campus Map with EV Stations, Bike Parking, Student and Staff Parking.                                                                                                                                                                                                                                          
         


 

The Santa Rosa campus parking map is available here:

Open Student Parking on the Santa Rosa campus includes:

Emeritus Lot
Bech Lot
Bech Annex
Elliot Temporary Lot
Bear Cub Way
Scholars Way
Student Parking in Lot C
Mendocino P
Parking Lot, behind the Campus Market at 1880 Mendo cino Avenue

Additional Free Student Parking

Students receive FREE parking at the City of Santa Rosa 7

th

 Street parking garage, and  FREE transit on Santa Rosa City Buses

Park at the garage: 7

th

 Street Garage Address: 521 7

th

 St, Santa Rosa
At the Chery Street bus stop, take a Santa Rosa City Bus (Route 1, 20,48, or 60) to the SRJC Campus
A bus comes every 15 minutes, travel time is 10 minutes.
While on campus, get a pass to leave the garage from either Student Affairs in Bertolini or Accounting in Bailey Hall.
For more information on bus schedules and maps go to https://www.srcity.org/1661/Maps-and-Schedules

 
Sustainable Transportation
Riding a Bike: 
Sonoma County is bike friendly. Bike paths can be found throughout various cities. You should plan to wear a helmet when biking and always lock your bike when you arrive at your destination. No permit is required to park your bike on campus. Bicycles must be parked in racks or bike link lockers located in various locations on campus. Any bicycle parked in  hazardous manner or chained to a ramp, pole, tree, etc., may be impounded by District Police. Bicycles are NOT allowed anywhere inside buildings by order of the Fire Department. Bicycles can be taken on the SMART train and buses but must be walked on pedestrian pathways for the saftey of the rider and pedestrians. Bicylcle riding is allowed only on roadways and parking lots.  
Map your route to campus using Google Maps or Strava. Available as apps on your smartphone too. 
Air Quality Index: Click HERE for today's air quality.
Bicycle Repair Station Santa Rosa & Petaluma campus
Want to bike to campus but afraid of a bike breakdown? No worries! SRJC has you covered at both the Santa Rosa and Petaluma campus. The bicycle repair station features common repair tools as well as a tire pump. Tire patches are available for purchase in the SRJC Bookstore.
Any line any time...Ride the Bus for Free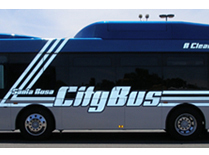 Sonoma County college students are eligible to ride Sonoma County Transit buses for FREE! Just show your validated CubCard when you board the bus. 
The Santa Rosa Junior College has partnered with Sonoma County Transit, Santa Rosa CityBus, and Petaluma Transit to allow SRJC Students to ride for FREE. 
How do you ride for FREE?  Show the driver your SRJC Picture ID AND the current semesters validation sticker . . . you're good to go!
Don't have the current semester validation sticker?  Get one for free at the Student Information Desk, 1st Floor, Bertolini Building on the Santa Rosa Campus, or at the Student Resource Center (PC 607) on the Petaluma Campus.
Don't have a SRJC Picture ID?  You can get a FREE ID (one without a picture) at the Student Information Desk, 1st Floor Bertolini Building. Don't forget to ask for your current semester validation sticker!  You will show the bus driver your Free student number ID with validation sticker along with another form of picture ID (State ID, passport, etc).
SMART Train:
Plan your trip HERE
With the start of SMART rail service, Sonoma County Transit's Route 44 will be a "free" link to and from the Petaluma SMART Depot for SRJC students with their current CubCard. There are also SMART Connectors and Shuttles available though Sconoma County Transit.  Get off at the Santa Rosa North or Downtown station and walk or cycle to campus (Between 1 to 2 miles)