Strategic Plan Goal E
The 2014-2019 Sonoma County Junior College District Strategic Plan outlines its vision: SRJC aspires to be an inclusive, diverse, and sustainable learning community that engages the whole person.
Further, one of the eight values identified in this plan is Sustainability that includes:
The teaching of sustainability principles and concepts
Research on sustainable development projects/issues
Incorporating ecological values and practices in the District's operations
Support and promotion of sustainability efforts in our community
Fiscal solvency and sustainability
Goal E: Establish a Strong Culture of Sustainability that promotes environmental stewardship, economic vitality, and social equity may be achieved by the following high-level actions:
Expand, support, and monitor district-wide sustainability practices and initiatives
Infuse sustainability across the curriculum and promote awareness throughout District operations
Promote social and economic equity in the communities we serve
Ensure economic sustainability by leveraging resources, partnering with our communities, and contributing to the economic growth of the region
STARS
In 2019, SRJC submitted its first STARS® report. STARS® the Sustainability Tracking, Assessment & Rating System created by the Association for the Advancement of Sustainability in Higher Education (AASHE) as a transparent, self-reporting framework for universities and colleges to measure their sustainability performance. We are the first community college in California to complete this assessment!
We have been awarded a bronze-level designation.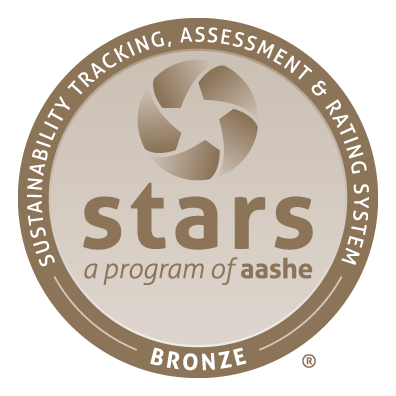 SRJC will use the results of this assessment to guide the creation of a new sustainability plan and to improve efforts across categories for future submissions of STARS®.
Five Sustainability Spheres
The District Sustainability Committee has crafted goals within five spheres of sustainability, and this website is organized accordingly. 
Economics & Equity
Transportation & Access
Edicatopm & Culture
Energy, Waste, Water + Facilities & Grounds
Civic & Community Engagement