Santa Rosa Junior College (SRJC)  partnered with Bay Area public transit agencies and the Metropolitan Transportation Commission (MTC) on a two-year pilot project to study the benefits of a transit pass providing access to all transit services in the 9-county Bay Area.  During the fall of 2022 and spring 2023 semesters, enrolled SRJC students had the ability to request the Clipper BayPass. The pass will remain valid through the summer of 2024, contingent on ongoing enrollment.
Who qualified for this program?
Students who were enrolled in SRJC during the Fall 2022 and Spring 2024 semesters, and who filled out the Clipper BayPass request form 

Can I still qualify for this program? 
No. Enrollment in this pilot program ended May 26, 2023.  
Students who already obtained the pass through this program will be able to use it through Summer 2024, contingent on ongoing enrollment.
Even though the Clipper BayPass sign-ups expired May 26, 2023 all SRJC students can participate in "Any Line Any Time" program which allows enrolled SRJC students to ride Sonoma County bus lines FREE of charge. 
https://sustainability.santarosa.edu/transportation-options
(scroll down to red bus icon).

Was there a cost for the Clipper BayPass for SRJC students?
No. The Clipper BayPass (pilot program) was offered to enrolled students FREE of charge. It allows travel on all public transit services that accept Clipper cards for free.
When did the project start, and how long will it last?
The Clipper BayPass program began in Fall 2022 and is continuing through Summer 2024, as long as the student remains enrolled at SRJC.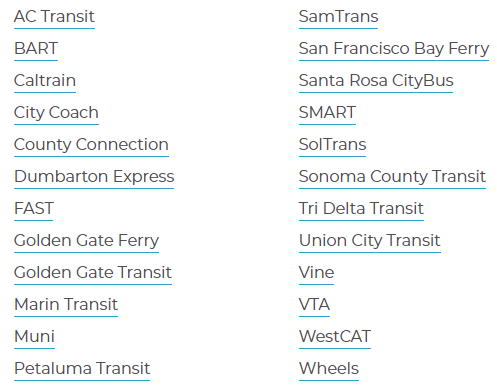 What Services does the Clipper BayPass cover?
The Clipper BayPass will allow access to all bus, rail, and ferry services in the 9-county San Francisco Bay Area that accept Clipper (listed at right) for no charge.
Is use of this pass restricted to commuting to/from school?
No. The pass enables unlimited travel on all Bay Area transit services, and participants are encouraged to use it for any and all travel needs.
Can I share this pass with my family or friends?
No. The pass should only be used by the students who signed up for this program. Violators will be removed from the program.


What if I lose my pass or it stops working?
Questions about replacing lost or malfunctioning cards can be directed to the Bertolini Student Center, first-floor information desk SRJC Student Life. Phone 707-527-4424
What is this program for?
The Clipper BayPass pilot will inform the development of a more permanent institutional pass product, which will be more broadly available. The aim of this program is to gain a better understanding of SRJC students' travel behaviors and the use of public transit in the Bay Area.
What will be studied and how will the information be used?
Bay Area public transit agencies and the Metropolitan Transportation Commission will use information collected during the pilot project to study how the Clipper BayPass affects how much people use public transit and what services they ride. This research will be based on information generated by the Clipper System, as well as through student surveys. Findings from the study will inform the development, pricing, and implementation of future institutional pass products.
How will my privacy be protected?
As with the existing program, all data generated through the pilot project will be handled in accordance with the Metropolitan Transportation Commission's Clipper Privacy Policy, FERPA, and other applicable university policies.